About Camp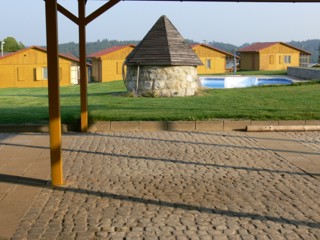 Kořen Youth Camp is located in the beautiful countryside of the Kosí potok (Blackbird Brook) Nature Reserve. It is close by to the small village of Kořen which is 3 km from the road connecting Planá to Konstantinovy Lázně. Places of interest close to the Camp include Konstantinovy Lázně, Mariánské Lázně (Marienbad), Teplá nad Bečvou (site of the famous monastery) and Planá.
The Camp is housed in permanent buildings and wooden chalets. It is especially suitable for school parties, sporting organisation, nature study and general tourism. The Camp is open from May to September.
History
Kořen is a village with a rich and vibrant history. Many years ago Kořen was a thriving community but since the Second World War has had a turbulent time, in common with many other towns and villages in this border region. Historical records from the 12th century mention Kořen. At that time it was under the control of the Lord of the Manor from Třebel. Later ownership passed to the Lord of Švanberk. The village changed hands many times until in 1932 Anton Tausner sold it to Heinze Franka, the last private owner, who owned it until 1945. The village and surrounding area then passed into the ownership of the newly instituted Communist state. In 1938 319 German Czechs lived at Kořen. One year later the population had fallen to 290. However, by 1948 the rise of Communism and anti-German feeling had resulted in damage to many of the properties in the village and all the German inhabitants had fled to the safety of Germany. At present Kořen has only one family in permanent residence and the remainder of the dwellingsare used as weekend cottages. This picturesque village is enclosed to the west and the south by the Kosí potok (Blackbird Brook) and to the east by the Kořenský potok (Kořen Brook) it is 500 m above sea level.
Further Information
The camp has a snack bar that is open continuously for the sale of snack foods, sweets, hot and cold drinks and beer, wines and spirits for the adults.
Coach Transport can be provided on request for trips to places of interest and general tourism.
In the interests of hygiene and safety we regret that the Camp is not able to accommodate pets.
The Camp will do everything within its power to cater for the specific needs of visitors provided these are known in advance.